"Sonnenenergie für Westafrika e.V." (Solar Energy for Western Africa, short form: "SEWA") is a joint German-Burkinabé not-for-profit organisation that works to improve living standards in West Africa through the use of solar technology. In cooperation with our partners in Germany and Burkina Faso we are developing and enhancing solar devices, educating people and providing schools and health centers with electricity - all of this powered by the sun.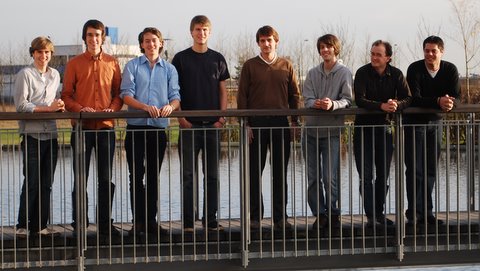 Promoting sustainable development, developing projects around the needs of target groups and long-term project monitoring and learning are all very important to all of our projects as is the promoting of close cooperation between our partners in Burkina Faso and Germany.
In Germany we have a team of around fifteen volunteers working on the project. SEWA has an office in Ougadougou, the capital of Burkina Faso, from which all projects on the ground are coordinated.
Our Developmental Goals…
… engage with the following socio-economic and ecological issues:
Controlling the desertification of the Sahel region
Deploying solar power systems to improve living standards
Further development and modification of solar power products
Distributing our experience on the development and production of solar power systems
Creating permanent jobs in West Africa
Learning from effective and transferrable use of solar energy in Europe
Developmental education (e.g. in schools)
Sensitisation to issues in developing nations
Our Partners in Burkina Faso
We work very closely with our partners in Germany as well as with enterprises in Burkina Faso. At the heart of our engagement is sharing our experience and creating new apprenticeship placements and jobs in a sustainable-orientated economic sector in Burkina Faso.
MICROSOW. Our partner for the development and installation of specially fitted solar power systems is Microsow, which was founded in Ougadougou by Souleymane Sow. Now with more than ten qualified staff, Microsow is also a very reliable contact point for all kinds of electrical installations.
ACOMES. Trade and metal workshops such as ACOMES count themselves as one of our longest standing partners in Burkina Faso. Owner Lassané Zongo and his colleagues manufacture the Solar-powered stove SK14 and Papillon as well as hot water systems for health facilities. His team are also responsible for more traditional craftsmanship like windows and doors for houses.
APFG (Association Pour la Promotion Feminine de Gaoua). With the assistance of the women's organisation APFG based in Gaoua in the south of the country, we have set up a project for the provision of solar-powered stoves.
CEAS. In 2005 a workshop on refining the production of a cosmetic, namely carite butter, was organised with the help of CEAS (Centre Ecologique Albert Schweitzer).
Our partners in Germany
Our projects have benefitted from the cooperation of over fifteen different partners in Germany. Among the partners are well-respected companies in the solar power business as well as many German schools, who have formed a formal friendship with a school in Burkina Faso. The partnerhsip is a worthwhile one for both parties: the school in Burkina Faso is kitted out with a solar power system, while pupils at our partner schools in Germany are given the opportunity to engage with current, yet complex issues around energy supply and world poverty at a young age.
Since 2008 a number of our projects have been given the support of the German ministry for economic cooperation and development.
The work of SEWA
SEWA is a not-for-profit organisation that always strives for the maximum possible transparency, sustainability and performance. In particular that means:
our organisation in Germany is composed exclusively of volunteers, who work in an honorary capacity and therefore receive no wage;
all of our projects run in close cooperation with both local partners and our target groups; and
we take care to keep an exact record and monitor our projects in terms of outputs as well as recording our accounts by the book.
Funding - giving africa

SEWA is financed by private donations and public aid money. The work of SEWA is non-profit and all members work voluntarily. All money goes directly to our projects and therefore for the good of the people of West Africa.